In the fast-paced world of Enterprise Sales, are you looking to sharpen your skill set to gain an edge? Do you want to drive efficient, repeatable success without getting worn down?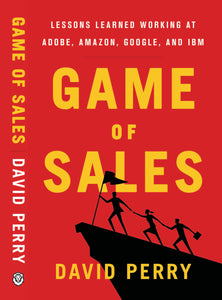 GAME OF SALES
Game of Sales is the candid conversation you always wanted to have with a top enterprise salesperson.  David Perry holds nothing back.  He takes you behind the scenes of what he's learned working for top companies like Adobe, Amazon, Google, and IBM.  David shares the tools, strategies, and techniques you need to beat your number and create mega deals.  He answers questions you never thought you ask.  You'll discover the mindset needed to perform at the highest level and maximize your earnings potential over the long-term.
Words of Praise
A valuable compilation of tips and insight for anyone in sales.
David's genuine and caring approach to enterprise sales is a recipe
for success.


STEPHEN FRIEDER, PRESIDENT, ADOBE AMERICAS
Resilience, adaptability, drive, and more. Games of Sales offers a range of stories and tips that all sellers can learn and apply today.


SCOTT FALZONE, MANAGING DIRECTOR, GOOGLE
An enterprise sales book for the ages. Get a sneak peek into the life
of an enterprise salesperson, learn how some of the largest, most
successful technology companies in the world operate, and find a roadmap to success whether you are just starting your career in
technology sales or are a seasoned professional. Read this book
now!

RICK VALENZUELA, STRATEGIC ACCOUNT DIRECTOR, TWILIO; FORMERLY STRATEGIC ACCOUNT DIRECTOR AT TABLEAU AND AKAMAI
About the Author
Dave Perry advises world-class brands on how to transform their marketing organizations through the acquisition and effective use of enterprise technology solutions.  Since 1999, David has worked with more than 100 companies across a wide range of industries including financial services, consumer products, technology, and healthcare.  In the process, he's drive over $125 million in new business and managed revenues.  In addition to his work, David serves as a startup advisor and investor, and organizes technology entrepreneurship events in New York City.  David received his MBA from the Johnson Graduate School of Management at Cornell University and live sin New York City with his wife Arianne, and their son James.